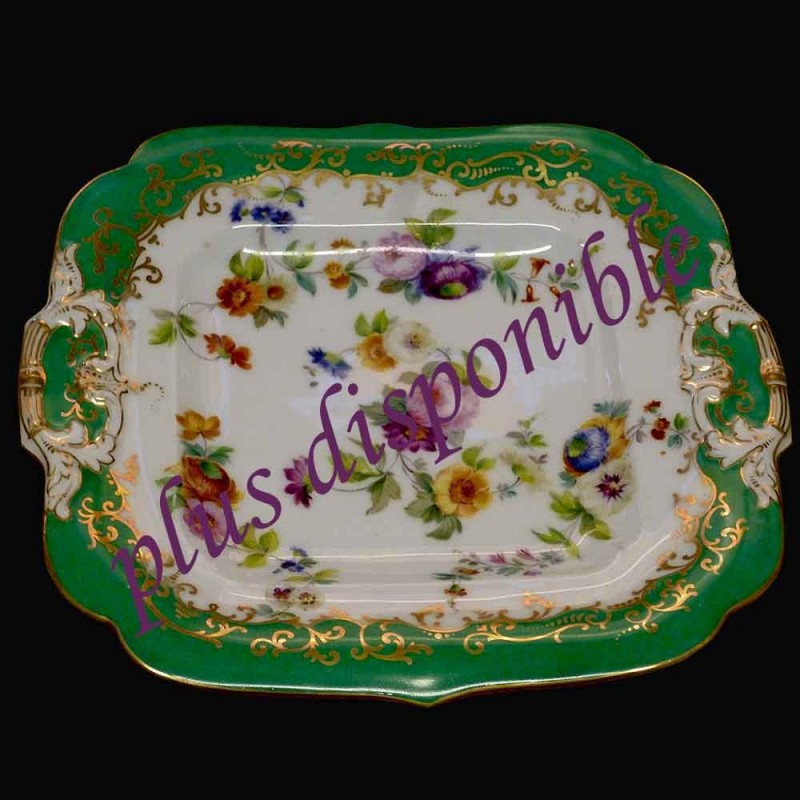  
Paris porcelain dish signed XIXeme century
Paris porcelain dish signed
Very nice cut square porcelain of Paris XIX th century on a floral theme with a beautiful relief has the gold was decorated with arabesques and interlacing.
Inside bloomed with central bouquet, hand painted decoration, no missing.
Length: 25 cm
Width: 23 cm
Réf. 1203
To consult our prices please register 

  

 

 Registration
Secure payment by paypal, credit card, credit card, bancontact, bank transfer.
Delivery policy (secure delivery between 2 and 4 working days)
Nice collection circa 1840 stamped Jacob small object
Note: Very beautiful piece of high quality.
Jacob Mardachée (said Jacob Petit) born and died in Paris (1797-1868) is a manufacturer of French porcelain of the XIX th century.
His name remains attached to the originality of its abundant and diverse production. These parts are today very sought after by collectors for their originality, the quality of their finishes and the richness of their colors. The Museum of decorative arts of Paris (the Louvre Palace) retains an exceptional collection of porcelain of Paris Jacob Petit.
For the record:
After learning only the drawing, Jacob Petit between as a pupil in the Studio of the painter Antoine Jean Gros, disciple of Jacques Luois David. Precociously attracted by China, he joined the manufacture of Sevres by 1822.
Passionate about decorative art, he made several trips in France and Europe (in Italy, in Switzerland, in Germany, in Holland and in England) to learn and perfect his technique.
Back in France, he published in 1830-1831 a collection of interior decorations including everything that is related to the furniture, such as vases, tripods, candelabra, chandeliers, girandoles, lamps, cheminets, clocks, tables, Secretaries, and all that relates to the metalwork, carpentry, locksmith ect...
This book which we will notice the desire for completeness will be a great success. The author is will constantly draw inspirations future Jacob Petit has the porcelain factory of Baruch Weil at Fontainebleau that it move a few years later to Avon.
The Baruch Weil porcelain factory is one of the most famous of the years 1830-1831 which is known to the choice of Rococo forms inspired by Saxony porcelain.
Very eclectic, the style of this porcelain is characterized by the accumulation of the elements of previous styles.
There are alone or associated with the "troubadour" Gothic, the renaissance, neoclassicism, Rococo style.
Forms circumvented, the polychrome living and abundance of gold opposes sobriety inspired by antiquity.